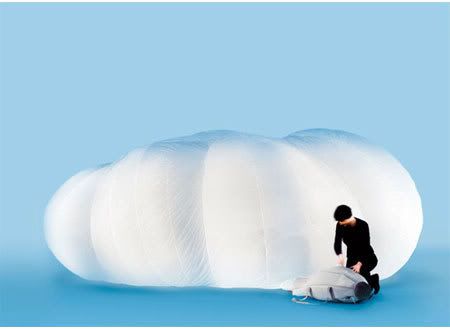 k, this is not new anymore, but worth a mention here. The
Cloud
is designed by Monica Förster. Cloud is the portable room for meeting, resting and concentrating. A room easy to transport from place to place. A quiet fan keeps Cloud inflated as long as needed. The room is installed in three minutes and can be folded up in the accompanying bag when deflated. Not recommended for outdoor use.
Whenever I've been travelling in airplanes, I have wondered how it would feel like to be inside one of the clouds outside the window. This is how I got the idea for the Cloud portable inflatable room. I started to make research about the cumulus cloud, which is the happy weather cloud.
In the morning moisture rises up in the sky and form cumulus clouds – towards the evening they dissolve and disappear. That's exactly how I would like my room to work. When you come to the office in the morning, you Inflate the room, and when you go home for the evening you deflate it and it disappears.